Posted on April 9th, 2016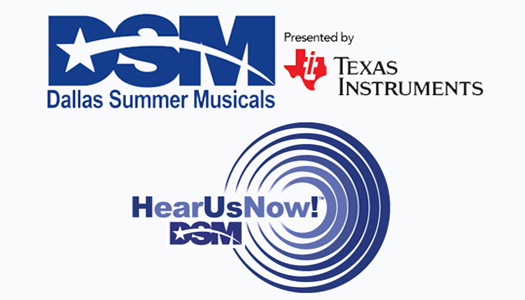 DALLAS SUMMER MUSICALS SPONSORS HEARING IMPAIRED STUDENTS AND FAMILIES TO EXPERIENCE DSM HEAR US NOW!® DURING DISNEY'S THE LITTLE MERMAID
 (Dallas, TX) Dallas Summer Musicals, Inc. (DSM) in conjunction with the Callier Center for Communication Disorders and UTD, sponsored just over 60 hearing impaired students and their families to experience DSM's newest advances in technology, Hear Us Now!® , DSM's trademarked state-of-the art sound system, during Disney's THE LITTLE MERMAID recently.
Patrons attending the Music Hall at Fair Park are impacted by these dramatic advancements in hearing assistance to live theater which features a vibrant new clarity in theater sound. This is quite evident to everyone, benefiting those with hearing loss and those who are not hearing impaired.
Under the direction of Dallas Summer Musicals, the Music Hall at Fair Park has undergone a major transition to significantly improve patrons' listening experience including substantial advancements in DSM hearing assist connectivity options and sound quality.  Close collaboration with nationally recognized experts including UTD's Callier Center for Communication Disorders, Purdue University and Idibri Consulting have been key to the evolving program.
Enhanced listening opportunities are delivered to patrons by a variety of methods ranging from DSM enhanced headsets to technology compatible with T-coil, FM receiver (Phonak channel 1 or equivalent), or selected streamers.  HEAR US NOW!® is so unique that a trademark has been issued by the United States Patent and Trademark Office.
"Over the past few years we have dramatically improved the sound and acoustics hearing system for everyone, not just the hard of hearing," said Michael A. Jenkins, President and Managing Director, DSM.
Barry Epstein, Hear Us Now!® program director and a member of DSM's executive committee, is also a distinguished alumnus from Purdue University and winner of the university's Outstanding Electrical and Computer Engineer Award. He said, "Additional improvements for the hearing assist systems have included syllable by syllable volume adjustment, enhancing the balance between music components and voice and we have added electronics to compensate for the building acoustics effect on hearing assist users. These are concepts not consistently used. We have done tremendous research to see what the advancements are that we can provide our hearing assist users. We have done them all."
DSM sound system technology has been updated, including new speaker technology especially suited to enhancing vocal clarity and enabling patrons to feel sonically closer to the stage.
System interconnects marries the best of the traveling show's sound systems to DSM's, bringing the best of both worlds – DSM theater improvements coupled to the director's music/dialog mix as originally intended and benefit of perhaps 50 or more wireless microphones worn by the cast and even sewn into their costumes.
Mark Rivet, Head Sound, Elf Touring Company, said, "Acoustically, the Music Hall at Fair Park ranks among the very best theaters in the U.S. for live Broadway shows!"
DSM has better headsets especially suited for these new features. The headsets are high powered enough they could be used in the place of a hearing aid.
After the show, the children were enthusiastic about their hearing experience, some even commenting they had never heard a musical completely through before and, this time, they were able to hear all of the speaking parts, as well as the singing. Some parents expressed surprise, saying they had never known their child couldn't hear everything during a show and were full of smiles as they described their children almost dancing in the aisle to the music and their favorite songs.
The parents agreed: They will return to the shows at the Music Hall at Fair Park for sure and they are so thankful Dallas Summer Musicals has made the commitment to not only the hearing impaired, but everyone, to continue to develop Hear Us Now!®  saying, "It's fun to come to the musicals again!"
QUOTES:
"The sound now at the DSM Musicals is amazing. I look forward to being a season ticket holder and coming to all the musicals!" – Nancy W. Marcus (Dirty Dancing)
"Dallas Summer Musicals hearing assist sound is by far the clearest I have heard. DSM's Hear Us Now!®  ensures every step in the sound process is attended to, and the results are spectacular." – Professor Rick Thomas, Purdue University and a Fellow of the United States Institute of Theater Technology.
---
About Dallas Summer Musicals:
Dallas Summer Musicals, Inc. (DSM) is the preeminent nonprofit presenter of Broadway theatre in North Texas. DSM produces, presents and promotes excellence in live musical theatre with year-round performances for diverse audiences of all ages, impacting the lives of children and families through education and community outreach programs, while enriching the cultural landscape of Dallas/Fort Worth, North Texas and the Southwest Region.
As a 501(c)(3) nonprofit organization, DSM relies on a variety of funding sources to bring the Best of Broadway to Dallas at affordable ticket prices, as well as to preserve the beautiful historic theatre, educate young audiences and create important community programs. DSM's Seats for Kids program provides a meaningful arts education experience to thousands of low income, at-risk and special needs children. DSM Kids Club is a program created to foster tomorrow's musical theatre audience. Through exciting activities children gain an interest, hands-on-knowledge and appreciation of the performing arts. In addition, Dallas Summer Musicals Academy of Performing Arts offers professional theatre arts training and scholarships to talented students in need. DSM's High School Musical Theatre Awards are patterned after Broadway's Tony®Awards and celebrate the power of the arts to significantly improve all areas of education. DSM Associate Producers is a dynamic group of young professionals with a mission to support DSM by cultivating future patrons and leaders making DSM part of the culture for young professionals in Dallas. DSM Guild is a group of individuals who share a love of musical theatre and support DSM by providing stellar service and hospitality to the cast and crew of every show. Since 2010 the experts at DSM have made significant changes and upgrades to its acoustical systems to improve the sound quality of the productions for all its patrons, including the hearing impaired, leading to the development of Hear Us Now!®; a device which utilizes five assistive listening technologies (T-coils, FM Classroom, Streamers, FM systems, and traditional headsets) to deliver a clear and direct audio signal. It is so unique that a trademark has been allowed by the United States Patent and Trademark Office. Seats for Vets, DSM's newest initiative, serves war veterans and their families by providing them discounted access to a unique theatrical experience as a way of thanking them for their service. Ticket sales alone do not sustain these endeavors. Only support from committed businesses, foundations and individuals make these programs possible.
Dallas Summer Musicals is presented by Texas Instruments and gratefully acknowledges the support of our season sponsors and partners The Dallas Morning News, WFAA TV Channel 8, American Airlines, and The Original Cupcakery.
For more information about Dallas Summer Musicals, please call 214.421.5678 or visit our website at DallasSummerMusicals.org.
#   #   #
---